Hitachi Develops a New RFID with Embedded Antenna µ-Chip
--Makes Possible Wireless Links that Work Using Nothing More Than a 0.4mm X 0.4mm Chip, One of the World's Smallest ICs--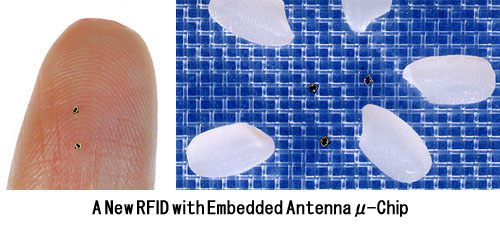 Tokyo, September 2, 2003-Hitachi, Ltd. (TSE: 6501) today announced that it has developed a new version of its RFID µ-Chip embedding an antenna. When using Hitachi's original µ-Chip, one of the world's smallest RFID ICs measuring only 0.4mm X 0.4mm, an external antenna must be attached to the chip to allow external devices to read the 128-bit ID number stored in its ROM (Read-Only-Memory). This newly developed version, however, features an internal antenna, enabling chips to employ the energy of incoming electrical waves to wirelessly transmit its ID number to a reader. The 0.4mm X 0.4mm chip can thus operate entirely on its own, making it possible to use µ-Chip as RFID IC tags without the need to attach external devices. This breakthrough opens the door to using µ-Chips as RFID IC tags in extremely minute and precise applications that had been impractical until now. For example, the new µ-Chip can be easily embedded in bank notes, gift certificates, documents and whole paper media etc.
The µ-Chip, announced by Hitachi in July 2001, is one of the world's smallest IC chips at 0.4mm X 0.4mm. The chip data is recorded in read-only memory during the semiconductor production process, and therefore cannot be rewritten, thus guaranteeing its authenticity. Applications of the µ-Chip include a system for managing the SCM materials on sites, and entrance tickets for Expo 2005 Aichi Japan which opens on March 25, 2005.
The primary features of this revolutionary µ-Chip are as follows.
(1) A RFID IC chip measuring only 0.4mm X 0.4mm with built-in antenna
Despite its extremely small size, this µ-Chip has a built-in antenna to permit contactless communications (at very close proximity) with other devices without using an external antenna.
(2) No need for special manufacturing equipment
The antenna is formed using bump-metalization technology (used to create the electrical contacts of an IC), a process already widely used by semiconductor manufacturers, thus eliminating any need for specialized equipment.
(3) Complete compatibility with conventional µ-Chip
With ID numbers and support systems that are fully compatible with those of existing µ-Chip, the new chip is fully compatible with all systems that use current µ-Chip technology.
Hitachi plans to develop numerous markets for this chip that take full advantage of its outstanding features. Embedding the chip in securities, identification and other valuable documents such as vouchers offers a highly sophisticated means of preventing counterfeiting. Another high-potential application is agricultural products, where the chips can help ensure the safety of food by providing traceability of ingredients. Additionally, the chips can be embedded in business forms to automate logistics systems and many other business processes.
About Hitachi, Ltd.
Hitachi, Ltd. (NYSE: HIT), headquartered in Tokyo, Japan, is a leading global electronics company, with approximately 340,000 employees worldwide. Fiscal 2002 (ended March 31, 2003) consolidated sales totaled 8,191.7 billion yen ($68.3 billion). The company offers a wide range of systems, products and services in market sectors, including information systems, electronic devices, power and industrial systems, consumer products, materials and financial services. For more information on Hitachi, please visit the company's Web site at
http://www.hitachi.com
.
Information contained in this news release is current as of the date of the press announcement, but may be subject to change without prior notice.
http://www.hitachi.com/New/cnews/030902.html
===================================================
Rat Nerve Cell Pings Computer Chip
By Tracy Staedter, Discovery News
http://dsc.discovery.com/news/briefs/20060417/nervechip_tec.html
April 19, 2006 A rat nerve cell attached to a semiconductor chip has exchanged a signal with the chip, an achievement that could lead to organic computers that process information like a brain, say researchers.
Rat Nerve on Chip
Picture: Courtesy of Peter Fromherz |
This image shows the rat neuron on a transistor. Scientists registered communication between the chip and the neuron, bringing thinking computers and brain-controlled artificial limbs closer to reality.
[Note: This was back in 2006. This technology is one of the forerunners of using DNA to control MANS brain, a technology which has now already been developed and is being used secretly against us. Arthur & Fiona Cristian - Love For Life]
-------------------------------------------------------------------------------------------------------------------------------------------------------------------------------------------
Never knowingly take the mark...not that you dont have it already.....wake up!
Whats a S.I.N. number.....whats a T.I.N. number
http://loveforlife.com.au/content/09/09/15/chip-tip-needle-dr-ryke-geerd-hamer-new-germanmedicine-nano-chip-death-chip-tip-nee
This would be WHY they want to force vaccinations. They have tried every way they can think of to get people to take a chip voluntarily--for health, for safety, for convenience. Most people know better than to accept a chip. Now they have a chip this small??
And you would never know you had it. I figured they are trying to force chips. I thought the chip might be in the vaccine itself.
Another thing I feel quite sure about, they have made people so dependent on general health care and made it soooo expensive that people will clamor to jump into a decent socialized health care plan. When they do, they will have to take a chip to be included. There are many reasons not to take a chip. Primarily, you can be traced wherever. You might not think that is a big deal until you refuse to subscribe to ANY of THEIR rules and you are hunted down like an animal. Also, chips have been proven to create cancerous cells. It taints our electro-magnetic fields. M.
--------------------------------------------------------------------------------------------------------------------------------------------------------------------------------------------
See Also: Video/Podcast/Articles/Blog Journalist Jane Burgermeister: Case About Bird Flu Criminal Charges Filed In Austria About Bird Flu: Journalist Files Charges against WHO and UN for Bioterrorism and Intent to Commit Mass Murder:
http://loveforlife.com.au/node/6671
and Video: Swine Flu 1976 & Propaganda - The Devastation, The Victims Who Took The Shots Back In 1976 - "WARNING" "WARNING" - 16 Min:
http://loveforlife.com.au/node/6636
and Bird Flu - Avian Flu - Smallpox - Pandemics - Pestilence - Swine Flu:
http://loveforlife.com.au/node/2756
and Vaccination:
http://loveforlife.com.au/node/106
and Chemtrails - Haarp - Morgellons Disease - Scalar Electromagnetic Technology - Weather Wars:
http://loveforlife.com.au/chemtrails
and Mercury:
http://www.loveforlife.com.au/node/810
and New World Order - NWO = OWN The Planet + Microchiped Population + Police State & Fema Camps Internment & Detention Camps:
http://loveforlife.com.au/node/3060